Managing Partner, Ernst & Young
Colin James does not fall neatly into a category as he is a superb Speaker, Facilitator, Trainer and Coach.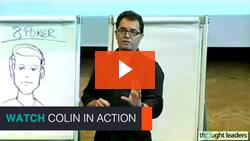 Speaker
It is rare to find one person who can MC a conference brilliantly, deliver a standing ovation standard keynote as well as run a deeply engaging workshop to embed skills, all on the same day. He can also consult with clients on event design to create profoundly memorable, world-class conferences.
Keynote topics include:
Lizard Management Strategies
Followership
Managing The Change Game Brilliantly
"I Don't Believe It!" Making The 'Impossible' Possible
Facilitator
Facilitation is a complex and sophisticated skill and Colin is internationally recognised for his ability to manage groups through often challenging and difficult processes. Whether it is to clarify strategy, improve leadership, communication or collaboration, he is a master at navigating complexity, conflict and politically tricky situations and facilitating outcomes that have lasting and measurable value.
Coach
Colin's coaching approach is specifically focused on skill and personal development. He is very direct and robust in his approach and seeks to limit coaching sessions to a maximum of 3 or 4 sessions. He has coached some of Australia's leading executives in financial services, aviation and information technology. He only provides coaching 4 days a month